Friday, 30 November 2001 01:34
A ...short story
Written by Nikos Anastasakis
The story starts at 1986, at the place of 4th High School of Chania. It was an enterprise of the local community of Physics Teachers and the School Advisor.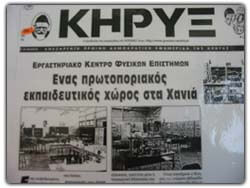 The "Laboratory for Physics and Chemistry" (...the first name), becomes a meeting point for students and teachers, who are visiting the "Lab" on their free time, asking and answering questions, experimenting, discussing and learning in ... a different way.
At the next years, the laboratory grows up and becomes an official characteristics as the Administrative Office of Education places a teacher in charge of the "Lab" At the same time the "newborn" structure starts plying it's role in the Educational facts of the town: Schools are organizing educational visits there, some experimental instruments are borrowed to schools for the daily experimental teaching, broken devices are repaired, some "papers" and "notes" are written and contests of experiments are organized.
At 1996, based on experience of local Labs (like that in Chania, in Larissa too ...), the Official Authority of EKFE is founded (Υ.Α. Γ2/1111/22.2.96). The Laboratory in Chania has it's new name, EKFE Khanion. E.K.F.E. is the initials of the hole name: "Ergastiriako Kentro Fisikon Epistimon", that means "Laboratory Center of Physics Science".
At 1998, we moved on a bigger place, at the compound of Akrotiri's High School, just ten minutes from the City Centre.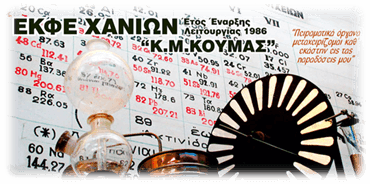 Since 2004 it has a dedicated name too: EKFE Khanion, "K.M.Koumas". in honor of the pioneer experimenter teacher from Larissa, "K.M.Koumas".
EKFE Khanion remains active these years through educational training of our colleagues (in seminars and educational meetings), through live lessons for our students (a lot of them are visiting EKFE every year, being instructed to experimental and inquiry learning), participating in conferences, organizing educational activities, writing lab-instructions and activities (useful for school learning), using and testing software tools and trying to help everyway our teachers to stand more ..."physically" in the class.
---
Some Pictures from our path through the years...